For many, holiday lights are symbolic of the season. These twinkling reminders are enjoyed as walk-thru Christmas displays, added to drive-thru routes, and ahhed over by holiday celebrators. But you may feel that you don't have the creativity or access to the kinds of lights that would set you apart.
That's where Green Drop comes in. We've added a professional holiday lighting service that provides a solution to the hours spent deciding on lights and putting them up yourself. Our comprehensive service includes:

Access to an extensive catalogue of top-of-the-line lighting options
Custom designs with a variety of colours and themes
WCB-insured team members
Complete installation and removal with season-long maintenance
Storage after the season's over
When you're ready for a lighting option that carries you through any holiday season, Green Drop has comprehensive, custom lights to dazzle your neighbours.
See which of our packages is the right fit for you today!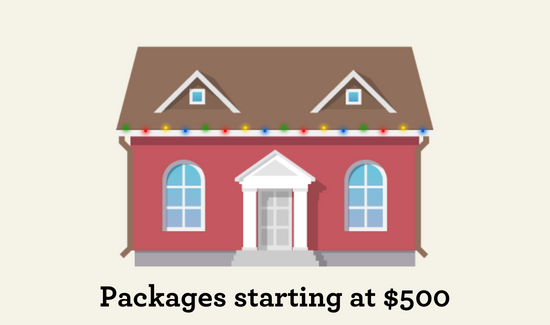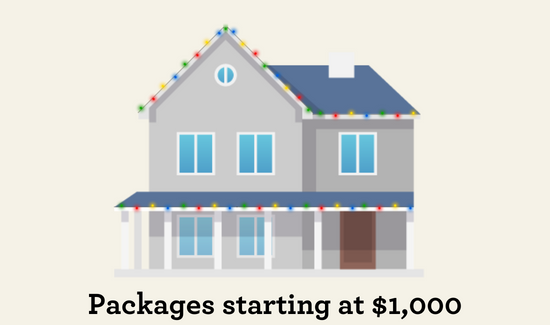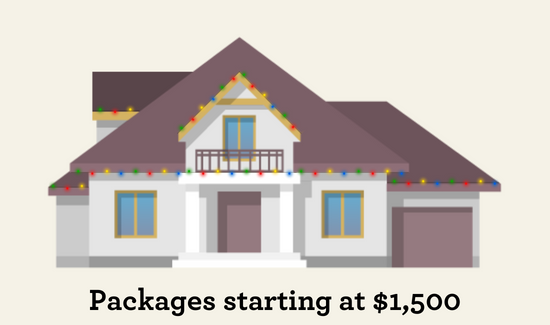 Enjoy Creative, Personalized Displays Worry-Free
There are a ton of things you have to think about when Christmas, Hanukkah, and New Year's are on the horizon. From hosting dinner parties to baking and shopping, finding time to put lights up and maintain them can be a hassle you don't have time for.

That means it might be time for expert help. Green Drop has created a Christmas lighting package that works for your budget and provides professional lighting options you can't find anywhere. It's time to get rid of the stress of decking out the outside of your home and get back to enjoying the holiday spirit.
Have your own lights to install? Green Drop does that too!
Make your holiday season brighter without all the hassle. Green Drop can also install any lights you own, saving you the headache of climbing ladders and untangling cords.
Sit back, relax, and we'll take care of the installation. Our experts will ensure your home will glitter festively and your lights are cared for. Instead of stressing over installation, trust us to bring your vision to life. Your beautifully illuminated home will be the North Star of lighting this winter.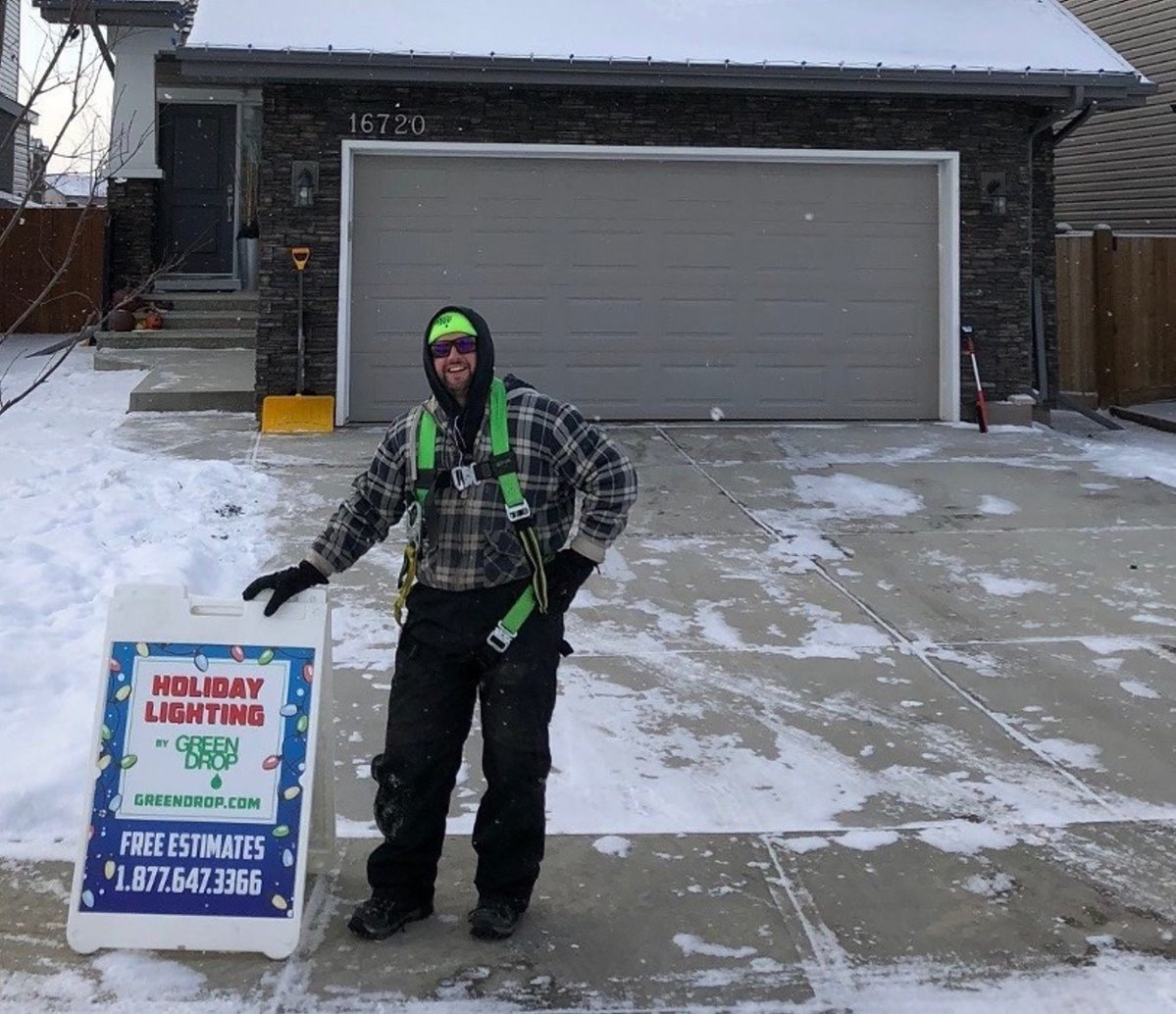 What Does Green Drop Include with Their Holiday Lighting Service?
The team at Green Drop has built out a service that works for you with creative and custom holiday lighting options. We'll work with you to understand your vision and create a plan our team can implement and maintain for you. Each part of our lighting services is curated so that we can personalize it every step of the way.
A Range of Packages
During the holidays, everyone has different priorities. So that means they set aside a budget for other things. Green Drop understands this, so we've created packages starting at $500 to fit any size lighting budget that can scale depending on how in-depth you'd like your display to be and the size of your home. If there's something else you need covered, we can also explore other custom packages with you.
Inclusive Pricing
Each lighting package includes all products (lights, wiring, timer(s), extension cord(s) and storage), so from season to season, you only pay for installation & removal. This means you're not paying for new lights every year and will know exactly what you'll get when it's time to get your lights set up.

Premium Designs
Our team has curated designs that are of peak quality. Everything can be customized to your home and what you need from your lighting displays, so you always get top-of-the-line designs that look fabulous no matter what.
Professional Installation & Removal
Avoid damages, potential injury, and installation hassle when working with a professional team. We'll visit your home and put up all the lights to the design specifications, using equipment that makes the installation more manageable than if you were doing it alone. We'll also return at the end of the season to take down all the lights for you, saving you tons of time.
Maintenance & Storage
While we provide the installation and removal of your lights, that's not all we can handle. You can also count on our team to visit your property throughout the holiday season to ensure that all lightbulbs and electronics work properly. These regular checkups will increase your lights' longevity and ensure your home looks its best.
Once we've done the removal at the end of the season, we'll also store your lights for you. This frees up space in your home for other items. Additionally, our storage solutions provide more safety to maintain your lights, so they'll last longer, and you won't have to consider replacements.


Why Are Holiday Light Services Helpful?
Holiday lighting services are helpful because they can help you create a more robust display while maintaining safety and better quality products. Deciding to invest in professional holiday lighting is a big one, but it can improve your quality of life during the holidays for years to come.
Save Time and Focus on Other Important Holiday Tasks
One of the most noticeable benefits of holiday lighting services is that you free up time. Instead of putting up or ensuring your lights are working correctly, you have a team to help so you can focus on preparing for the celebrations. You can cook a feast for a holiday party, plan a family outing, and shop for presents without the stress of a lighting display lingering over you.
Avoid Injury & Safety Issues
If you're not someone who works in an industry that requires you to climb ladders, work on homes, or scale roofs, it's entirely possible you don't have any experience working with the equipment needed for larger home displays. It could also be that you're just not confident on a ladder or climbing around the outside of your home.
Our team is trained and experienced to handle every installation carefully so your home isn't damaged and you don't risk serious injury.
Easier to Get More Diverse Lighting
Choosing a lighting company gives you access to more (and better) lighting options. If you have a particular vision for your home or want a specific kind of light, a professional may have an easier time accessing that type of light, and it can often save you money in the long run. Our team of experts will help you find the lights that can meet your needs better than if you're hunting things down in a home improvement store.
Take Down & Storage Simplified
As a homeowner, you don't have a team of helpers to take down lighting unless you find a professional company to partner with. Once you find that partner, you can avoid the struggle of taking down lighting after the holidays have passed. An expert will have a process in place to maximize efficiency, so it's easy to have the lights down more quickly and stored in a way that keeps the decor safe for the following year.
You also don't have to find a place to store your decorations and lights with a holiday lighting company on your side. We can implement a plan and then execute the storage options so that your lights are safe and packed in a way that's easy to grab in the future.

How Green Drop Ensures Stellar Lighting
As a team, we've created processes that ensure quality and great displays every time. We want you to enjoy your lights all season long while getting the most out of taking advantage of the benefits of a professional service.
WCB-Insured Team
Each team member is experienced and insured to prevent any issues should any injuries happen on your property. This way, you're protected, as is our team, so you never have to worry.
Custom Themes & Colours
Our team works hard to provide you with the best holiday lighting options. We've curated a collection of themes and colours that are fully customizable to match whatever mood you hope to have for your lawn and home. You'll have a full selection of lights to ensure you get the most out of this art form.
Can Help with Multiple Holiday Themes
Not everyone celebrates the same holidays, but that doesn't mean you can't have great lighting for whatever you need. Enjoy the celebration with lights to get you through any holiday season.
Christmas Lighting Services
Probably the most well-known for holiday lights, Christmas is a holiday where people go all out with outdoor decor and lighting displays. Our team has the perfect combination of colours and themes for professional Christmas light installation. Enjoy a design that celebrates this festive holiday.
New Year Lighting Displays
Whether you celebrate the new year on January 1st or on Lunar New Year, the lighting team can help create a perfect display that celebrates new beginnings without needing to focus too much on other holidays.
Diwali Lighting Services
When you need some help with a display for the Festival of Lights, look no further. Our team can help with customized designs perfect for whatever gathering. For these custom packages and questions, we encourage you to give us a call so we can match you to a plan that's perfect for your needs.
Hanukkah Lighting Services
Adding a unique lighting display to the outside of your home for Hanukkah is a great way to celebrate the season. Since this holiday focuses on eight days of lights, commemorating the event with a custom display can be a great way to add to the celebrations.
Professional Products & Equipment
Save yourself the frustration of dealing with electricity and timers. Professional-level products make installation a breeze and maintenance more straightforward. With pro-level tools, we keep you safe from injury so you can enjoy your display all season long.
Green Drop is ready to help you get the holiday display of your dreams. Light up the night and talk to us about the vision for your home lighting today!

When Is It Time to Consider a Holiday Lighting Service?
While there are many benefits to utilizing a professional for your holiday lighting, it may be challenging to decide if it's the right move for you. There are a few things to consider when deciding whether you want professional help in time for Christmas, Hanukkah, or New Years lights.
You've Got the Budget
If you have funds for holiday decorating or outdoor maintenance in the winter, consider allocating that to your holiday lighting display. Outdoor service is a great way to do this because you'll pay for the lights every year and still get help from experts with the proper training.
It's also possible you've never considered a professional service before, but you have extra money that you can use toward this. It's a long-term investment that will save you time and money.
You Need to Save Time
Deciding how you want your lights to look, checking that your existing lights are in working order, buying new lights, gathering tools, and the installation time for holiday lighting begin to add up quickly. During the holiday season, you tend to have many things going on – whether it's holiday commitments or just the regular work you need to do for your job and general housekeeping.
Adding yet another thing to the pile of stuff that has to get done may be daunting. A professional Christmas lighting team is an excellent option because you take this time-consuming task off your plate while still getting great results and regular consultations from our team.
You Don't Have the Space to Store Lights
Many professional services include the storage of your lights at the end of the season in their packages. This is a great way to protect your lights and saves you space if you're low on storage areas. A professional team will usually have specific areas set up for storage that are better with climate control and use best practices for storage because of their knowledge about different lights. This combination of safety and storage is an excellent bonus for your holiday lighting options.
You Feel You Lack the Creativity
For some, deciding where to put lights or what kind of vision to have can feel almost impossible. Perhaps your brain doesn't work like that to create a vision, or you have a general idea but feel your skillset can't entirely pull everything together into a cohesive design. When this happens, a professional lighting company can be a great asset.
We offer suggestions, know all the different kinds of lights so we can tell you which will work best, and we have a ton of designs you can pick from to customize. This gives you a lot of freedom with your displays, so you can enjoy the product of the lights without needing to know the tiny details about installation.
How Much Does Professional Holiday Lighting Cost?
The costs of holiday lighting services will vary based on the kind of design, the size of your home, and the level of detail and maintenance required. For Green Drop, our packages start around $500 and go to around $1500. Our lighting packages also include all products (lights, wiring, timer(s), extension cord(s) and storage), so you only pay for Install/Removal in future seasons.
So, if you want something exceptionally personalized, you should chat with a person on the team before getting started for an accurate quote.
A Creative Holiday Lighting Solution You Can Trust
Safety, efficiency, and long-term manageability are huge tenets of Green Drop. We want you to have fantastic holiday lights that will last you all season. That's why our services are built to suit any budget or idea. Creative and insured team members ensure an excellent experience for all of our customers, so you're set for the long haul.
Ready to experience fantastic holiday lighting with significantly less stress? Check out our packages today and choose the one that works for you.