back
Top 10 Fall Lawn Care Tips
Reading time: 8 minutes
You've successfully battled weeds, defended against pests, and encouraged a healthy lawn through the summer. But lawn care doesn't stop there – you must prepare for the winter ahead and enjoy your yard as much as possible before the weather gets too cold.
To do that, you must know what to do in the fall to ensure your lawn can survive the dormant season and return more vibrant than ever in the spring. We've gathered some of our top lawn care tips into one place so you can get ahead with lawn care as the season turns.
Does Fall Lawn Care Matter?
Green Drop has been in and around lawn care for over 40 years. So we've seen our fair share of lawns that thrive and those that flop in the colder seasons. A fall lawn care regimen is essential to maintain your property's peak health and performance.
Besides enjoying your lawn for longer, you get many benefits from care done in the fall. More robust grass root systems, more greenery, and a yard that can recover in the spring are just a few of the great things that await you on the other side of lawn care services in the fall.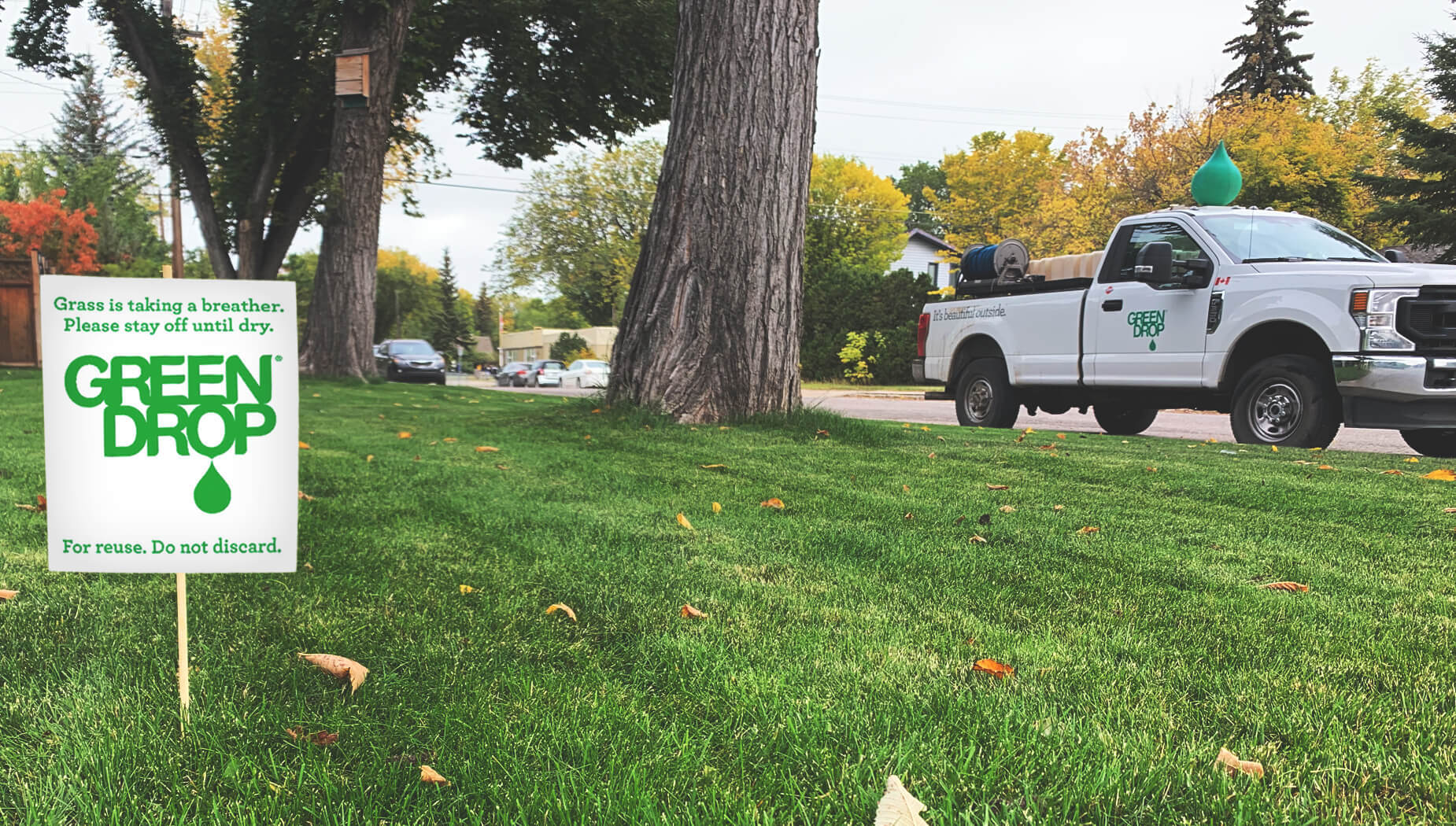 10 Lawn Care Tips for Fall
Caring for your lawn doesn't have to be a full-time job, but as a homeowner, you should know the different aspects of lawn care and what to do as the seasons change. Our list of top 10 tips for fall lawn care includes things you can do on your own and things that a professional lawn care company can do for you.
1. Mow Your Lawn a Little Shorter
Even though the fall is rolling in, so you don't need to mow as often, you should still cut for a while into the fall. Doing so helps keep the grass at an optimal height. But once you reach the point of your final mow for the season, it's time to cut a little shorter than average.
During the summer, you avoid cutting grass too short because it could damage the plant, cause unnecessary stress, or trigger an early hibernation. However, this changes in the fall, when growth slows. To avoid snow mould or matting in your grass over the winter, it's best to cut the grass to about 1.5 inches for best mowing results.
2. Remove Excess Leaves
During the fall, leaves drop, coating your yard in a riot of colours. But this blanket of leaves can cause problems if left unattended for too long. We don't recommend heavy or power raking in the fall, but we recommend ridding your property of thick leaf coverings.
One way to do this is by going bagless while mowing. This will crush unwanted leaves so they won't completely cover your lawn. It's also a bonus while you're still mowing through the season.
3. Mulch Leaves for Richer Soil
Mulched leaves are a great natural resource that covers your topsoil and encourages a healthy lifecycle in your yard. The decomposing matter generates nutrients and acts as food for earthworms, who are a necessary part of the ecosystem.
Mulching leaves has many benefits, though the top one is the added nutrients for your yard that provide protection and food to your soil.
4. Watering is Still Important
During the summer, most people find it easier to remember to water their plants and lawns. Once fall hits, it's a little bit easier to let it slide, but you don't want to forget entirely. Try to water your lawn while knowing you won't have to water as deeply or as often.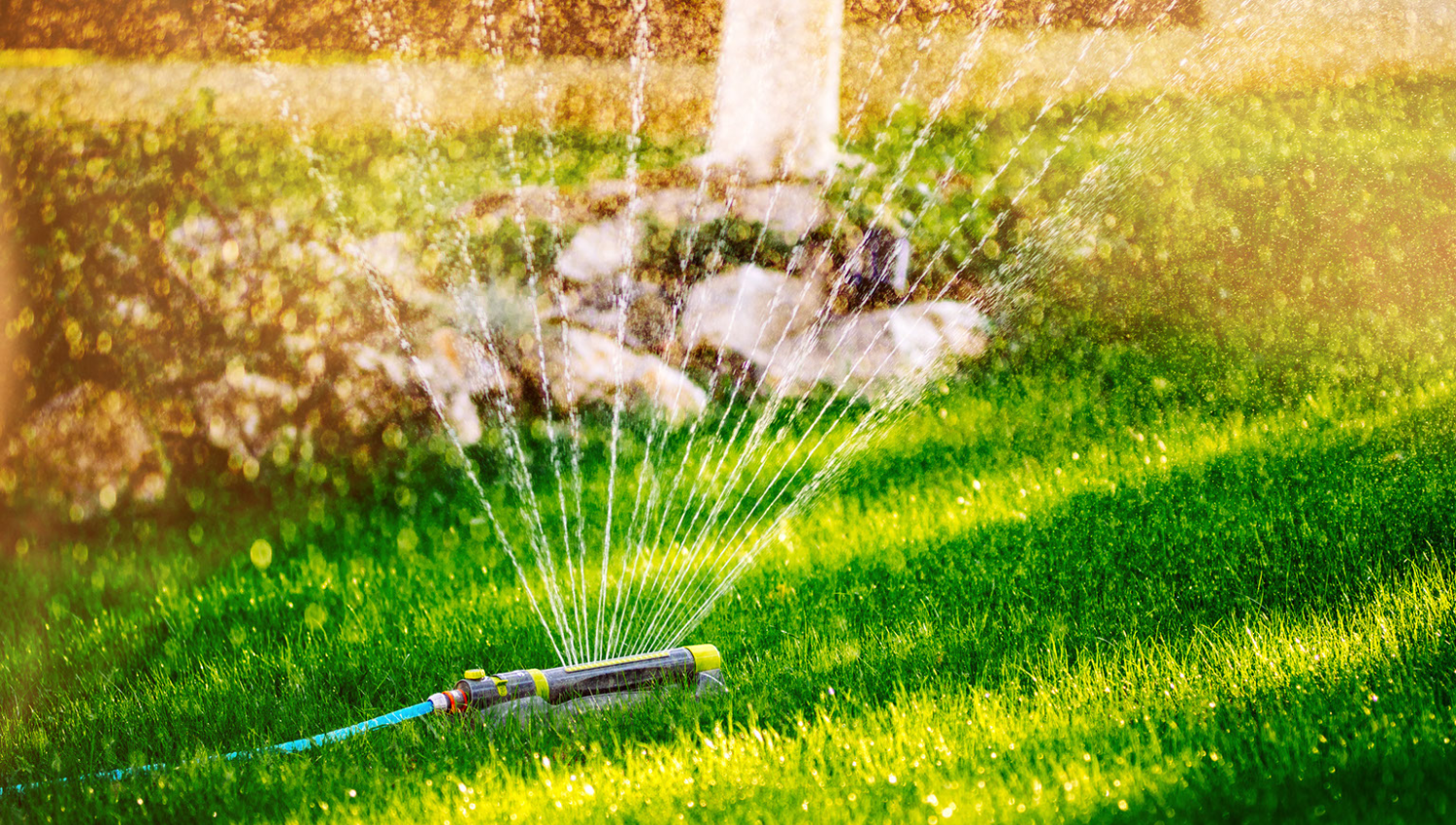 This is partly because you don't have to worry about water evaporation on your lawn during those cool autumn months. Fall weather also tends to be wetter, so you can let nature take care of your watering.
Once the first freeze arrives, don't forget to drain irrigation lines, hoses, and other pipes. It will help you avoid costly damage.
5. Get Rid of Any Lingering Weeds
Weeds are an eternal annoyance for lawn owners everywhere. They are particularly bad during the summer when they can proliferate and squeeze out your other plants and grass. And these annoyances don't just leave once fall hits. They can hang out in your grass and steal the nutrients needed to get your plants through the winter.
During the fall, you want to remove any lingering weeds to ensure they can't stick around and then pop back up in the spring. A weed control service adds an extra barrier against these weeds hiding in your lawn until the weather warms up again.
6. Fall Fertilizer Treatments Are a Lifesaver
While warm-weather fertilization is a given for lawn maintenance, you shouldn't neglect fertilizer treatments in the fall. A specialized formula will offer your lawn the best nutrients to get through the colder season ahead.
For example, you want to stay away from nitrogen-heavy blends for the fall and focus instead on blends with more potassium or phosphorous because they help with root development and growth so they can settle in and have a robust system before the winter.
7. Aeration & Overseeding Are Your Best Friends
Two services we recommend to everyone with a yard are aeration and overseeding. Aeration is done by creating holes in the soil that add oxygen and create space to encourage growth and avoid soil compaction. Overseeding directly adds grass seed to a yard instead of tearing up the topsoil.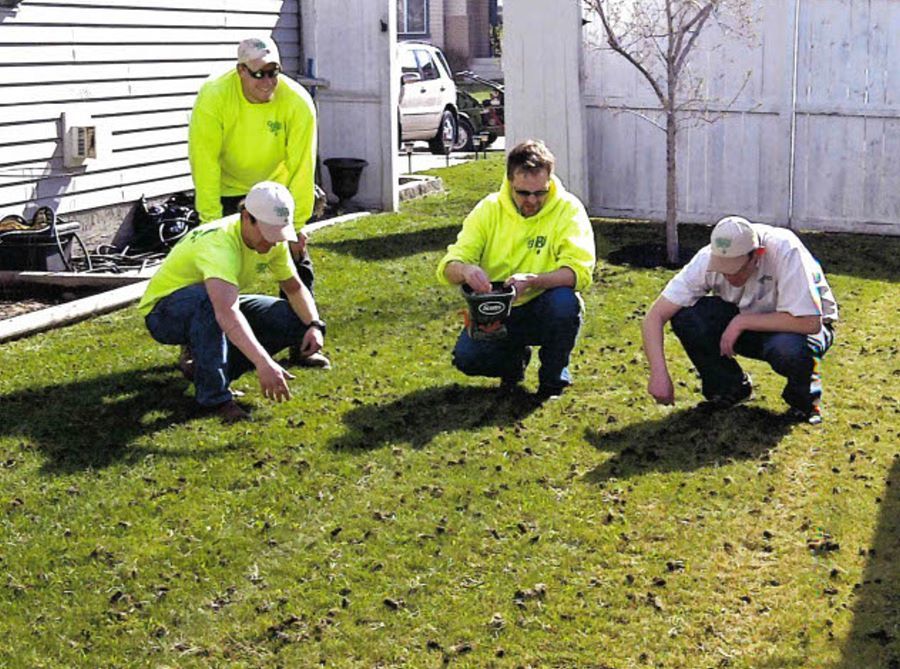 Doing these services simultaneously is a great way to get more seed down and ensure that it has more successful growth. Plus, doing them in the fall before it gets too cold is the best way to set your lawn up for success in the spring because the ground hasn't frozen, and they can still germinate to be ready once the weather warms again.
8. Don't Forget Pest Control as Needed
Watching your lawn for insects and other pests is a good idea in the fall. As temperatures cool off and these potential invaders look for cozy places to nest over the winter, you want to ensure that they don't find your home and property a viable option.
This means you'll want to engage in strategies that keep pests away from your lawn, like storing firewood off the ground and away from your grass and soil. You can do many things on your own to keep your space safe, but if you ever need an added defensive boost, a professional service, like our sister company Buzz Boss, can keep the outside of your home defended year-round.
9. Understand Timing for Best Results
As with most lawn care, when you choose to do it is crucial. With fall services, that becomes even more important. You may be able to get away with putting off some spring services until later in the season, but things like fertilizer treatments or overseeding need to be done at optimal times to ensure that they're successful.
Putting them off for too long could mean that you run into issues with the first frost of the fall and can't keep up, or you'll have to deal with runoff from fertilizer because of the weather, so your lawn can't get the complete nutrients it needs.
10. Know When It's Time to Stop
Our final tip for fall lawn care is straightforward – stop. It's really easy to keep going with lawn care or not be sure when it's time to let your lawn rest and recuperate, but it's vital to know when the season for lawn care has come and gone.
Taking your lawn care too far into the autumn months could damage your property, grass, and plants more than you want to deal with. Some of it could even be hard to notice until spring comes around. You don't want to check your lawn come March or April and see dozens of browning patches you weren't prepared for.
So, while regular lawn care is a critical part of a healthy yard, it's just as important to know when to take a break and let the lawn manage itself. If you've done everything you need to do, the vibrant greenery you rely on will come back stronger than ever with the next growing season.
Take the Stress of Fall Lawn Care Off Your Plate
When fall rolls around, it's no time to slack off. You've got to be prepared for anything and ready to guarantee the health and vibrancy of your lawn in the long term. While there are many things you can handle on your own, like lawn watering, some things are best handled by professionals.
Green Drop is your partner for services like aeration, overseeding, and specialized fall fertilizer. Our state-of-the-art equipment will ensure efficient and effective treatments, while our trained GreenKeepers use proven methods based on science to keep your outdoor oasis looking brilliant.

Need help with fall lawn care? Contact our team today and learn more about our fall packages
Book Your Beautiful Lawn Package