back
6 Reasons To Hire A Professional For Residential Tree Care Services
Reading time: 7 minutes
Trees are an essential part of natural landscaping. They keep spaces cool, provide privacy and security, and bring beauty and vitality to any area. But trees also need proper care to stay in excellent condition through every season.
Home tree care might not seem too difficult at first glance, but there's a lot of science behind growing and maintaining beautiful, healthy trees. Most homeowners need professional help to correctly plant, water, fertilize, trim, and prune their trees.
If you're ready to learn more about keeping your trees strong and lush, we've gathered some of the top reasons to use a professional service. Then you'll know how to create a tailored residential tree care plan for immediate and long-term results.
Why Hire An Arborist?
An arborist is a specially trained professional specializing in the horticulture of trees and woody plants like shrubs and vines. They are adept with many different tree varieties, common pests and diseases, planting techniques, and maintenance strategies that keep trees healthy and nourished.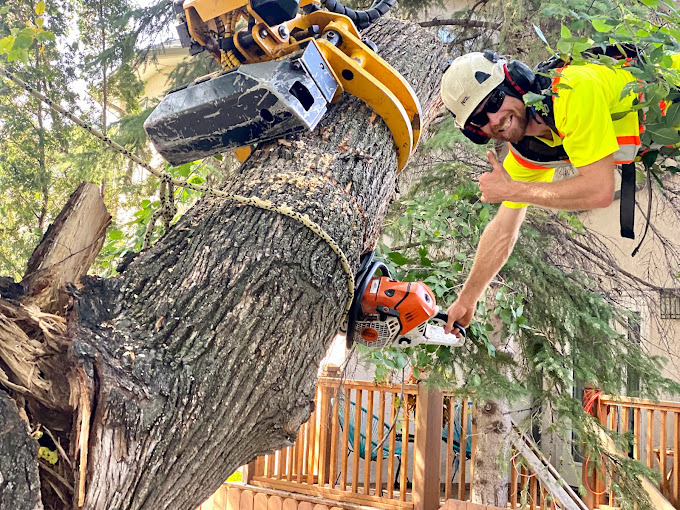 Arborists complete specialized tasks like tree risk assessments, determining if any problems are causing the tree to become stunted, and fertilizing trees at designated intervals to promote maximum growth. A professional arborist will have the following:
More Background Knowledge
There are hundreds of tree species and dozens of possible diseases and health conditions that affect how your trees should be taken care of. Most homeowners aren't familiar with which species of trees grow where or what signs to look for if concerned about root rot and other health conditions.
Professionals study the trees that grow in Canada, understanding how to identify them and what living conditions they need to thrive. They also understand the potential threats trees face in different areas and how to mitigate hardwood decay, leaf rust, fire blight, and Asian beetle infestations.
You can trust that a professional has more background knowledge of how to avoid problems and water, fertilize, and prune trees to keep them looking their healthiest. You can let your arborist know your residential tree care goals and ask for recommendations to help you decide on a care plan that will work for your trees and budget.
Access To Specialized Equipment
Tree care often requires special equipment and power tools to climb, remove, prune, and trim trees. This includes axes, wedges, hedge trimmers, tree loppers, harvesters, and wood chippers.
Arborist supplies and equipment can be expensive, which may not be the investment you want to make if you just care for your trees at home. They're also incredibly dangerous to use and require extensive safety training. When you hire a professional arborist, you can trust that they'll have access to whatever equipment, tools, or supplies are needed to care for your trees.
Certification
The International Society of Arboriculture (ISA) offers a voluntary certification program that assesses arborists' knowledge, skills, and capabilities to determine their specialty areas and ability to perform adequate tree care. There are 6 different certifications that the ISA can award to an arborist, including:

ISA Certified Arborist – A standard certification program accredited by the ANSI National Accreditation Board (ANAB)
ISA Board Certified Master Arborist – The highest level of certification offered by ISA
ISA Certified Arborist Municipal Specialist – For arborists with experience working for cities and towns in the areas of urban forestry or municipal arboriculture
ISA Certified Arborist Utility Specialist – For arborists with experience with utility vegetation management, like pruning around electrical lines or storm cleanup
ISA Certified Tree Worker Climber Specialist – For arborists who have at least 18 months of tree climbing experience in the field of arboriculture
ISA Certified Tree Worker Aerial Lift Specialist – For arborists who have at least 18 months of total experience, six or more of which need to be explicitly operating an aerial lift device
ISA's certification programs offer arborists and tree workers the opportunity to showcase their skills and receive recognition for their experience and knowledge in arboriculture. While certification isn't required for arborists, it's a good indicator that the person you're working with will be able to meet your needs.
Safety Training
Arboriculture can be a dangerous job and requires extensive safety training. As a homeowner, time and resources are limited, so you can't necessarily commit to training for tree care if you'd only be caring for your trees at home.
Professional arborists, especially certified ones, undergo comprehensive safety training to prevent accidents, injury, and property damage. These certifications are sometimes only available if you work for a tree care company, making choosing experts who prioritize experience and training even more critical.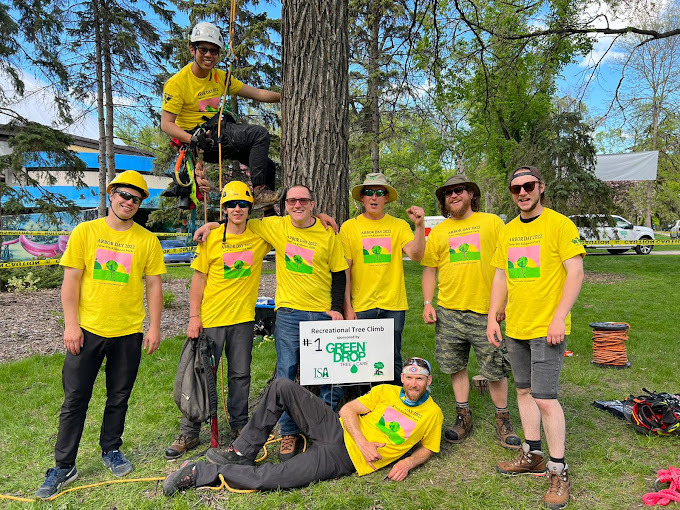 Several training programs and institutions are available for aspiring and established arborists to ensure safety. These programs help professionals keep you safe. They include options like:
The Arborist Safety Training Institute (ASTI)
The Arborist Safety Training Institute (ASTI) is an arboriculture safety training program hosted by the Tree Care Industry Association (TCIA) that offers affordable workshops and continuing education conferences for arborists of all skill levels.
ArborCanada
Arboriculture Canada Training & Education Ltd. is a company that offers many different courses for arborists and tree care workers like chainsaw operators. They teach participants about techniques and best practices with a personalized touch.
North American Training Solutions
North American Training Solutions is a trade school offering private courses for arborists looking to expand their knowledge formally. The classes are hyper-specific, so arboriculture professionals get detailed training without the fluff.
Some of the classes you'll find include focuses like:

Tree and shrub identification and pruning
Tree appraisal
Tree biology and physiology
Chainsaw safety and cutting
Crane use
Technical rigging
Electrical hazard awareness
Log loader safety
Stump grinder safety
Tree climbing and rope systems
Tree cutting and felling
Tree lightning protection
Tree risk assessment
You can use this list to check with your expert about their experience and if they've taken a formal program. By understanding the essential topics, you can ensure that the professionals you choose have a solid knowledge base, even if they aren't certified.
Insurance
Injuries are also an important consideration when hiring an arborist. It's essential to ensure your chosen provider has coverage for anything that might go wrong. Insurance can help absorb the costs of problems that happen on the job like:

Injuries to the arborist or people nearby
Damage to the homeowner's property
Workers' compensation for the arborist
Herbicide and pesticide coverage
Crane or aerial lift insurance
Wildfire insurance
Jobsite pollution coverage
Snow and ice removal coverage
Suppose the arborist you work with has subcontractors underneath them. In that case, you'll need to ensure those people are also covered by insurance before they begin working on your trees or anywhere else on your property. This protects you if an arborist gets injured while working because they can file a claim for compensation with your homeowner's insurance.
Knowledge Of Local Regulations
Professional arborists also know about local tree planting, pruning, and removal regulations.
For example, in Calgary, there are no bylaws limiting the removal of trees on private property. But the Tree Protection Bylaw states that you aren't allowed to remove, cut, or prune trees owned by the city.
And in Edmonton, the city requires you to maintain trees on the perimeter of your property or that overhang sidewalks and driveways.
With such high stakes for tree care, you don't want to be the one making mistakes and getting fined tens of thousands of dollars or more for it. When you work with a professional, well-trained arborist, you can be confident that your trees – and their care – meet local and provincial regulations.
Get Healthy Trees With Green Drop Arborists
Trees are more than just beautiful – they're necessary for human life. The benefits of planting trees outside your home are extensive, like keeping your home cooler in the summer, offering shade, and providing clean air. Whether you have existing trees that need care or you want to plant new trees, Green Drop arborists can help.
Contact us today at 1-877-877-0706, or fill out our quick contact form so our tree care experts can get back to you. Our arboriculture professionals can help you develop a customized tree growth and maintenance plan that meets your aesthetic and functional goals.
Schedule Your Free Tree Care Assessment